MERCHANT'S PERSONAL ACCOUNT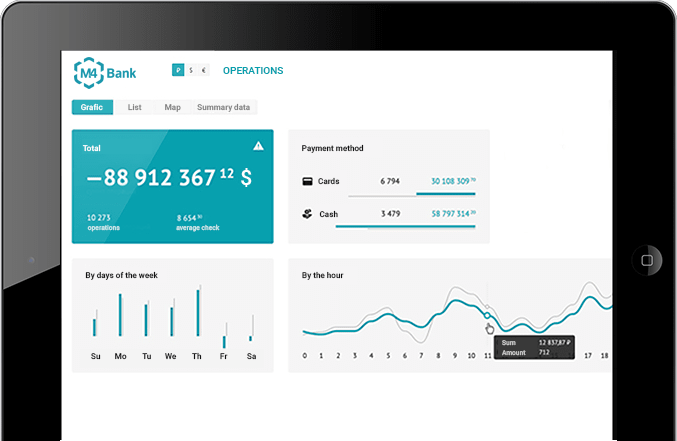 MERCHANT'S PERSONAL ACCOUNT - CONVENIENT, EASY, INFORMATIVE
Web-service helps to get up-to-date information about merchant's trading operations in a convenient form.
Effective

Merchant's PA is equally effective for both large and small businesses, from the bakery on the corner to retailers around the world.

Universal

Data sources for Merchant's PA: merchant-side point-of-sale solutions, processing systems, POS and POS terminals, ABS, and other customer systems.

Available from

Merchant's PA is a useful tool for controlling your merchant's operations anywhere and anytime. All you need is an Internet connection.

Convenient

Merchant's PA is a completely customizable tool for analyzing merchant activity, remotely monitoring payments in real time, and controlling your sales network.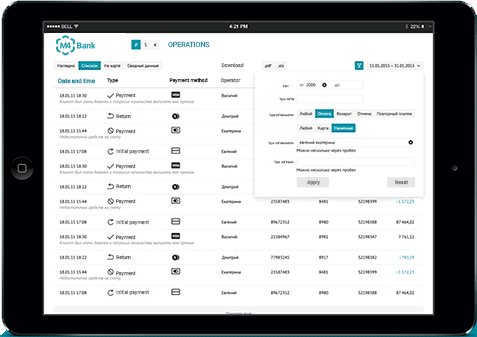 Real-time sales tracking
You can track sales trends and create daily, monthly or annual sales reports. You can track cash, cards or any other type of payment with Merchant's PA. You can also track and process returns.
Calculating revenue? Easy!
Merchant's PA allows you to quickly fill out a table with your sales history. Now you don't have to spend time on additional calculations.
Control the access level of your employees
You can control from a manager's account what your employees can see and do in a merchant's account by logging into an administrative account.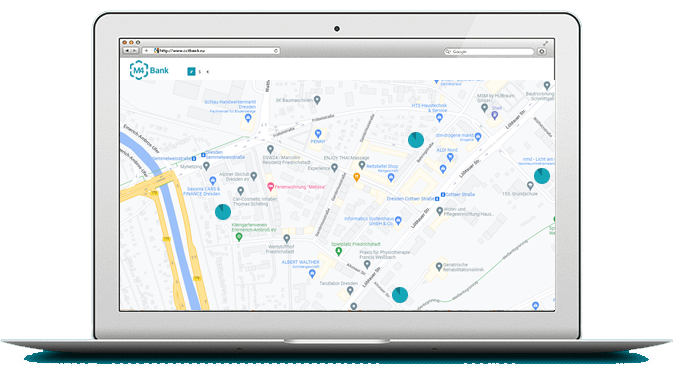 Back office with you
Check your account anytime, anywhere to learn more about how your business is going. Merchant's PA software is designed with best practices in mind, so you can be confident your data is secure.
Convenient statistics
With Merchant's PA analytics you can view your statistics in real time. Viewing your entire sales history and creating individual reports is as easy as logging into your account.
Receipts, that customers like
Using Merchant's PA, you can send receipts via email or print them out. You can also create your own digital receipts, using your company logo and photo.
BENEFITS
Benefits for the bank:
Efficient management of the terminal network.

Regular monitoring of technical metrics of the terminal network.

Tracking of business metrics of the terminal network to each device.

Attraction of clients for cash management services.

Additional services (analytics, crediting, loyalty).

Reducing the load on call-centers.

Image of progressive bank.
Benefits for the merchant:
Remote monitoring of the business and its metrics.

Advanced statistics on transactions.

Fast getting information about the status of transactions with bank cards.

Integration with loyalty programs.

Increase of terminal network use efficiency and sales increase.

Using the service at minimum costs.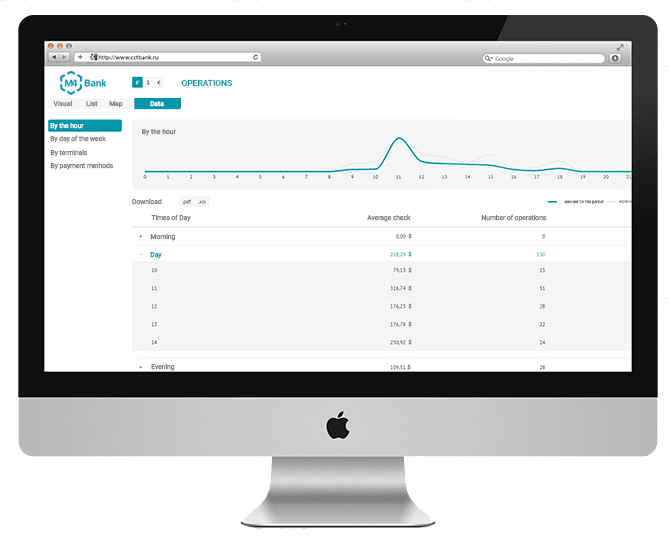 SYSTEM INTEGRATION
Integration with data sources
Autonomic work without permanent connection.

Integration at the POS terminal level.

Integration with several systems.

Ability to store electronic slips for transactions.
Integration with trading systems
1C.

Edit merchant data.

Upload the product catalog to the Merchant PA.
Integration with the loyalty program and bonus systems
Integration with the loyalty program and bonus calculations.

Accounting for bonus cards.

Flexible setting of rules for writing off bonus points.
Integration with the bank's back office
Integration with ABS.

Integration with Visa/MasterCard payment systems.
FEATURES
Intuitive interface
Fast output of sales reports to any device
Easy and fast access to the necessary financial information for the merchant
Prompt payment processing anywhere in the world
Ability to quickly add new operators and terminals to your network
Low-cost