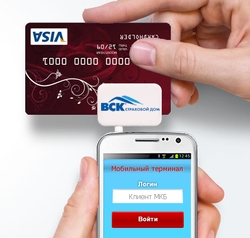 Mobile terminal of CREDIT BANK OF MOSCOW — is a compact device for reading bank cards — reader, plugged into the headphone jack on smartphone or tablet, running on iOS or Android platforms. With its help the insurance agents of VSK will be able to accept bank card payments of insurance premiums anywhere — the device, despite the small size, has the same functionality as the terminals in merchant acquiring. Use of mobile terminal does not require special skills, enough to swipe a card through the reader, enter the amount of the payment on the screen of smartphone and client's e-mail for sending an electronic purchase receipt. The client confirms the operation by personal signature, which he puts on the screen of smartphone / tablet.
Recent years the market of cashless payments and merchant acquiring in Russia shows steady growth, and the Credit Bank of Moscow seeks to keep pace with the times, offering to market innovative products and services in this area. Very often the cost of equipment is a barrier for conclusion of a contract of merchant acquiring for many companies which do not have such a high volume of payments by credit cards, or which need lots of POS-terminals. At the same time, a number of organizations are potentially interested in providing this service to its customers. Among them there are insurance companies, courier services, transport companies and many others. The Credit Bank of Moscow is one of the first in the Russian market who introduces the mobile acquiring service specially for this category of customers. We are happy that this pilot project was launched together with our partner - VSK Insurance House, and we are confident that it will have further dynamic development.

– comments Deputy Director of the retail business Management of the Credit Bank of Moscow Yurij Grigorenko.
Mobile terminals mPOS were recently launched in the Russian market. Today we see a great interest in this innovative technology by acquiring banks and retail and service businesses. We are happy that the Credit Bank of Moscow was among the first who saw the potential of mobile terminals mPOS for growing of business, and we congratulate our partner with the launch of the pilot project.

– said Stephen Parker, CEO of Visa for Russia, CIS and South-Eastern Europe.
The bank gave smartphones with installed special application for mobile acquiring to insurance agents of VSK who are involved in the project. This application is in-house solution of the Credit Bank of Moscow, developed with the participation of "Center for Technology Enterprise", this fact allows the Bank to provide services to companies without intermediaries under optimal conditions. After successful completion of the project, the application will be available on Google Play and the App Store.